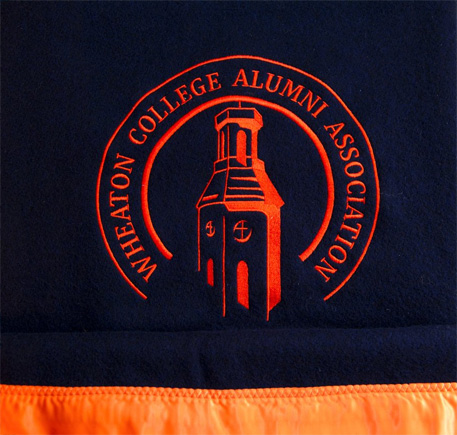 Our blankets are proudly made in the USA- cut, sewn, custom embroidered, personalized, and packaged – ready for gifting – one that schools, colleges, corporations and organizations can give with pride, knowing the recipients will cherish and enjoy for many years. They are beautiful to look at, fluffy, soft, and warm.
We take pride in working with our customers to create a classic style blanket that colleges will proudly want to give to their alumni, donors and faculty or offer for sale to parents and students. Businesses and organizations will appreciate them as a unique gift for awards or expressions of thanks, which will be treasured and displayed with pride.
Our fabric is 85% reprocessed Wool**, 15% Nylon that is manufactured in the USA. They are cut and sewn in our shop, embroidered with a beautiful logo, and finished with a rich satin poly binding, top and bottom, which is available in many colors to compliment the custom embroidery. Each blanket can be personalized with the recipient's name to further enhance the gift.



**REPROCESSED: All new wool pieces that are cut ends, cutoffs and leftover fibers, that are rewoven to make a softer and fluffier fabric, which is reinforced with Nylon to make it stronger and more durable.
CARE: Wool should not be washed, but dry cleaned, and cared for the same as any fine wool garment.
PLEASE CALL OR EMAIL FOR FULL ORDERING INFORMATION
We prefer to speak to our customers in person, as there is much information we need to gather in order to gain a clear understanding of your needs. You will be speaking to the people who manufacture your order and care about the quality and look of these fine blankets. We want to develop a great working relationship with you. We are willing to discuss your needs and offer suggestions to fit the look you want to create, assist in the design process and answer your questions relating to quantity, prices and delivery.
To start the ordering process: Call us at 630-377-9219 or email at This email address is being protected from spambots. You need JavaScript enabled to view it.. Anyone who answers the phone will be able to help you.
PRICING: Prices are based on the embroidery and quantity desired. Allow approximately 6 weeks for delivery of blankets from the date the order is placed and embroidery design is approved.
BLANKET COLORS: Black, Navy, Dark Green, Brown, and Burgundy.
BINDING: Many Satin binding colors are available for most school needs. Top & Bottom of blanket are bound, sides are selvage.
SIZE: 72"long x 60" wide