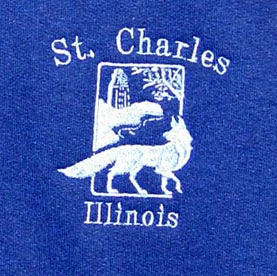 Louise Baron, Founder and President of Lou's, began as a home sewer, but quickly entered the manufacturing business, creating custom jumpsuits for skydivers out of Sunbrella fabric, a durable canvas type fabric. Her career took her into sewing with webbing, cordura, nylon and leather as a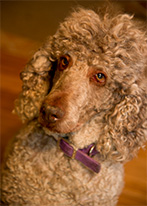 parachute rigger. While enjoying the challenges of working with these fabrics, she soon found herself exploring the exciting new world of creative machine embroidery. She began applying her sewing skills to the creation of logos and custom designs for customers from around the world, often at air shows such as the Oshkosh Fly-in (now AirVenture) and the World Aerobatic Competition. This kept Lou busy for many years, expanding her skills and providing custom embroidered items for her customers.
While embroidering custom logos on shirts, jackets and caps continues to be a primary part of the business today, Lou found that many of her customers also wanted patches sewn onto leather garments, canvas items repaired, small items manufactured, and often requested special fabric related services. The company has expanded to include these services as a regular part of the business. Lou enjoys the challenges and creative opportunities that fabric provides. She has years of experience working with the finest silks and linens to the heaviest canvas and leather.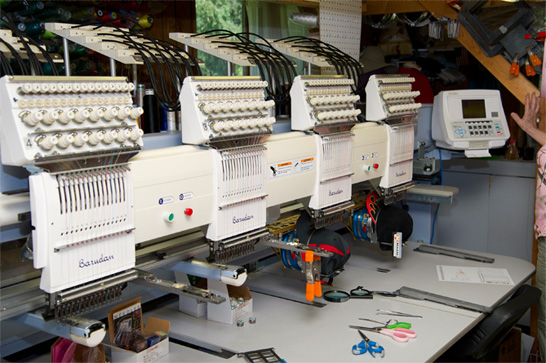 Lou has been joined by her husband Jim to help take the business even further with his machine knowledge and mechanical expertise. He keeps the companies machines in tip-top shape and designs specialized hooping mechanisms to allow embroidery on many uniquely shaped items. Together they have expanded the company's offerings to such areas as personalized Golf Bags, the creation of leather patches, Custom Wool Blankets for Colleges and Business gifts and the list keeps growing!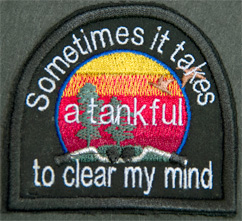 We have garments for sale, and we will also embroider on your items. The Catalogs we have selected, were chosen because the companies have large inventories, a variety of size offerings, great service and products. If you do not see what you want, please contact us by phone or e-mail (have them create a link to your e-mail). We have many additional sources.
Over the years, we have met and worked with a fine network of highly qualified professionals who can also produce, design, manufacture a wide variety of items. If we can't make it, we often can recommend someone who can - from Tailors and Furriers to Leather crafters and Printers, we are happy to help you find a solution to your fabric needs.