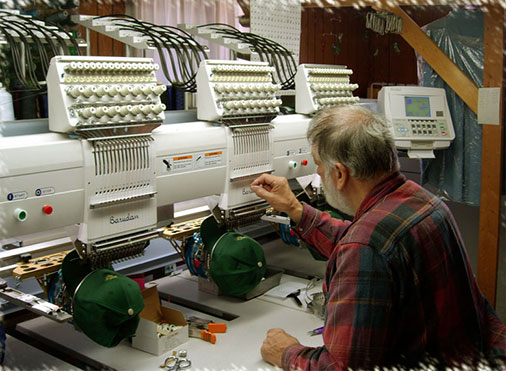 Embroidery is Lou's specialty. With our profesional multi-head embroidery machines, industrial sewing machines, hot press equipment and years of experience we can work magic with fabric.
Embroidery: Custom or stock designs can be created and embroidered for you to place on shirts, jackets, caps etc. We will personalize garments with your name or business, club or school. If we can hoop it, we can embroider it. We have the equipment to create one or thousands of embroidered items. Embroidered shirts, jackets and caps remain popular. Blankets, quilts, bags and other fabric items are also great places for embroidery. Golf bags and leather garments also look great with a personalized monogram embroidered on it.
Hot Press and Digital Transfer: Similar to screen printing for t-shirts, bags and similar fabric types. Great for groups, teams, schools, economical advertising on garments, bags or T's. It can also be used for names and numbers on athletic team wear.
Our item or yours! We can assist with sourcing or you can bring your clothing, blankets or other projects for custom work.
If it requires fabric, give Lou's a call and let us show you how we can help!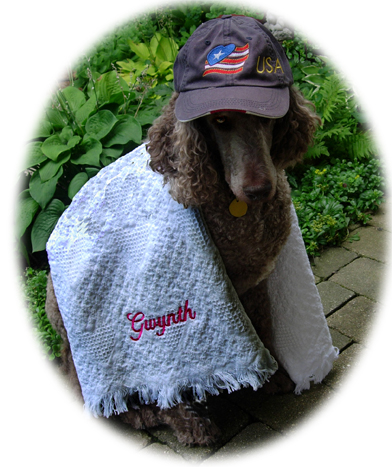 Custom Wool Blankets: We custom sew this sumptuous wool blanket for specialty gifts. This is a custom item that requires minimum quantities. Please contact us for details.
Sewing Projects: We have the equipment and experience to work with leather and canvas type fabrics, such as Sunbrella. We can sew patches on garments and do repairs and alterations on tents, flags and other specialty items. Please contact us to discuss your project. We create amazing designs in machine embroidery!
Looking for something to embroider? We work with a variety of suppliers to help you find just the right item – check out our catalogue page for ideas. If you don't see what you want, feel free to contact us.
Creative Machine Embroidery, Sewing, Digitizing, Hot Press, Small Project Design and Manufacture
– we do it all in house.

GIVE US A CALL TODAY!